Quickest ways to get referrals
Posted by Ezdoubler Team
1. Invite friends by telling them about Ezdoubler
The fastest way to start getting your first referrals is to invite your friends. Tell them about this platform and start the journey together! You will be able to share expreriences and help each other out.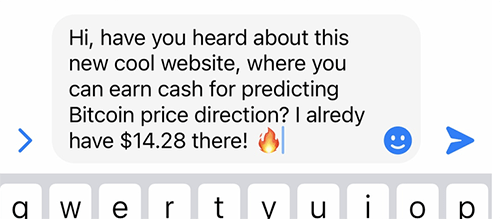 2. Social media
Social media is still the king when it comes to reaching potential referrals. We've found that video is the best format, but you can try other methods as well. Here are some quick ideas.
• TikTok is currently the fastest-growing social network. The advantage is that you can create a video with your phone in just a few seconds and it might become viral even though you don't have followers. The secret is to create a catchy video with a twist. Some ideas for you: record the screen while making trades, show off your balances and insane profits, sum up how Ezdoubler works in 10 seconds, post reactions to successful trades, post a payout proof, mash up with other trending videos/memes. The possibilities are endless and you can always try more iddeas with another short video!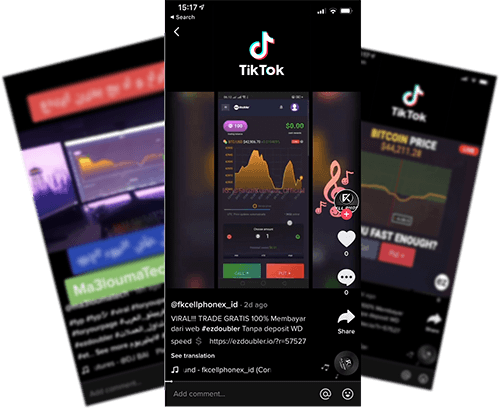 • Instagram stories can further extend your reach. You can simply share the previously created TikTok video on Instagram and double your reach.
• YouTube is another great platform. It is no longer just a video hosting, it is a huge search engine, too! This is why it converts so well! People like to search for information on YouTube and you can take advantage of this. Make a quick review or summary video and use clever title and keywords to move to the top of results. Pro tip: English language helps you reach the broadest audience, but making a video in your native language might be advantageous, if there is not a lot of competition in your country yet.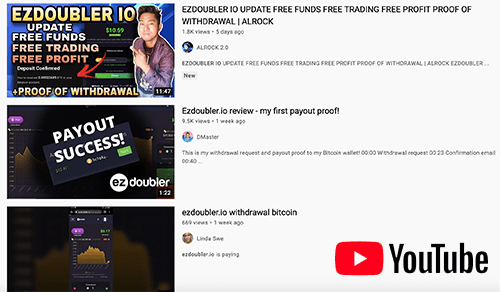 • Facebook group posts is also a good idea. However, it is getting harder and harder to find a decent group with interested users as most of them are just too spammy. You don't want to post just another post like everybody else, as it will simply get buried under hundreds of similar ones. If you choose to post in a group, make sure your text is catchy and provides some useful information for the potential referrals.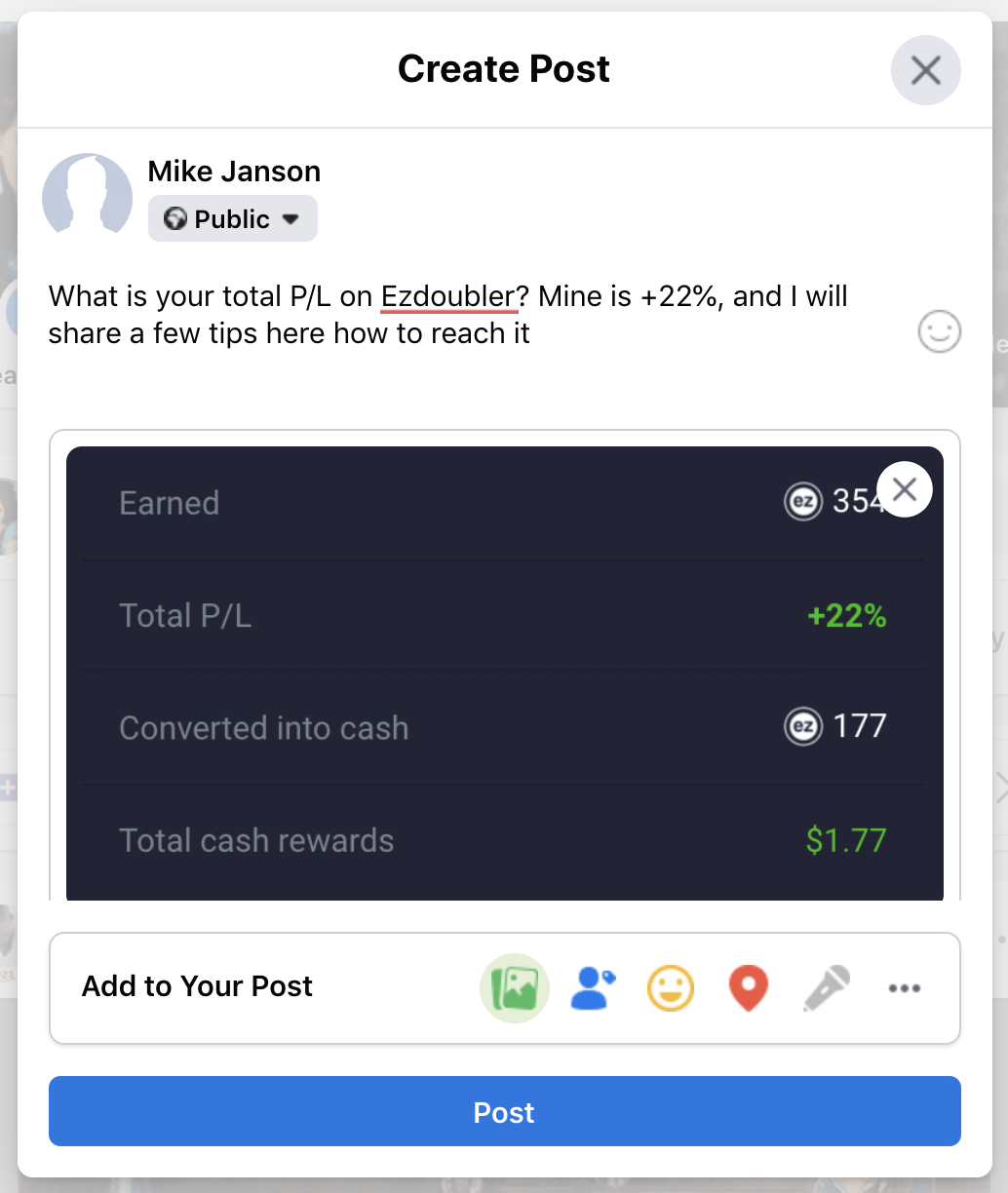 3. Blogging
Having your own blog post with a referral link is a big advantage. This way you can share the link to the post on social media, forums, and get organic traffic from search engines. You don't even need to create a blog from scratch, just join a platform like medium.com and start writing right away! Include some reviews, withdrawal screenshots or just general tips for new Ezdoubler users and your post will stay there forever, steadily bringing in new referrals every day!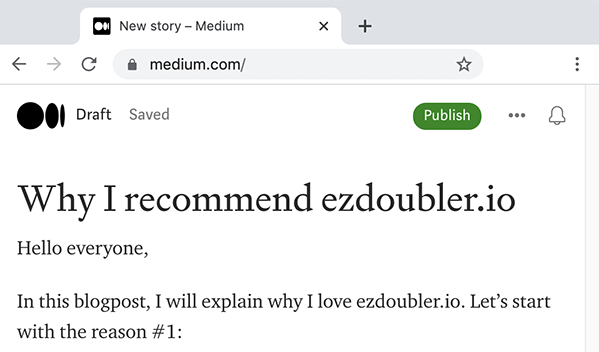 4. Custom creatives
Our referral system offers you much more than just a personal link. Now you can customize it by selecting a different banner, landing page or domain. This way you can advertise literally everywhere: from social media and forums, to your own websites or paid ads. Keep coming back for new banners or landing pages, as we always update them with the best converting versions.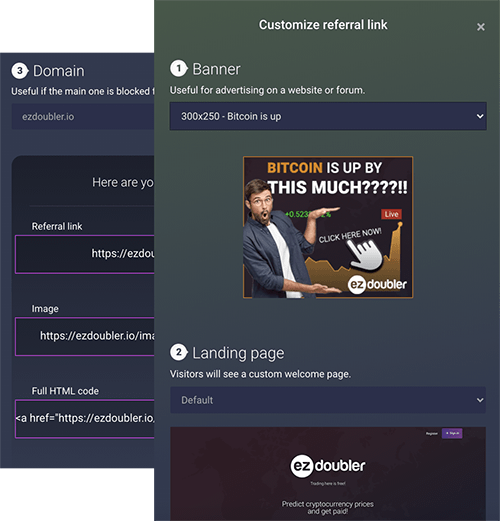 5. PTC and Surf sites
If you're serious about reaching the top levels and never worrying about free coins again, paid ads should be considered as the quickest option to achieve this goal. There are lots of Paid to Click, Surf or Popup websites, where you can post a link just for a few dollars and gain tens or even hundreds of new referrals.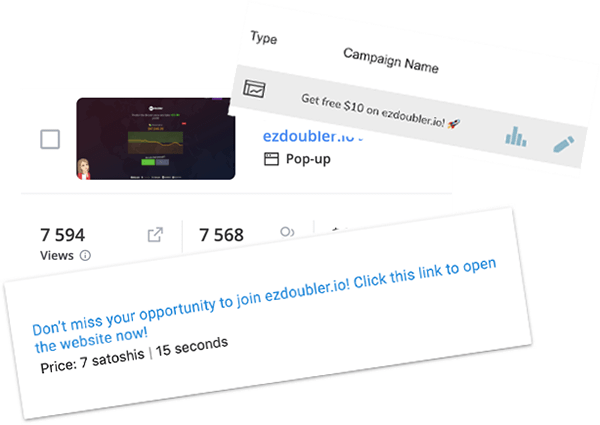 The main advantage of such websites is that it is very easy to set up a new campaign. Simply paste your link and you are ready to go: no need for complicated targeting options or choosing the right creatives.
Such websites usually have many convenient payment methods including crypto. Moreover, often they allow you to get free traffic by completing various tasks.
You can click here for a list of several well-converting websites, compiled by our friends, who use them all the time.
These are just a few examples how to get more referrals. Although they are very effective, you can always come up with your own ideas and get even better results!
Go back